Medical University Innsbruck, Dept. of Gynecology and Obstetrics
Innsbruck, Austria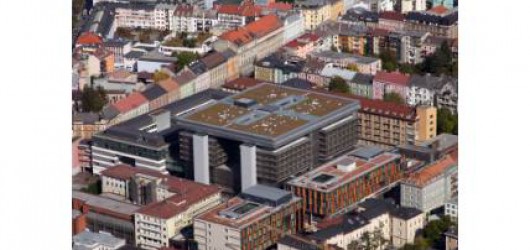 326

New breast cancer cases treated per year

17

Breast multidisciplinarity team members
Radiologists, surgeons, pathologists, medical oncologists, radiotherapists and nurses
Clinical Director: Christian Marth, MD
The Brustgesundheitzentrum Tirol (Breast Health Center Tyrol) provides comprehensive multidisciplinary care to breast cancer patients in western Austria. It is located in the Medical University Hospital Innsbruck. Our team members work has a multidisciplinary unit to provide optimal care. The core team includes breast surgeons, gynecologic oncologists, geneticists, pathologists, psychooncologists, reconstructive surgeons, radiation oncologists, and radiologists. The Breast Cancer Center is certified by the "Österreichische Zertifizierungskommission". Guideline-oriented diagnostics and treatments according to the latest scientific guidelines, continuing quality controls and promotion of education and research are the main targets of the Breast Health Center Tyrol (Brustgesundheitzentrum Tirol). Important research areas are issued concerning patient´s quality of life and side effects of cancer treatment, oncoplastic and reconstructive surgery, as well as multiple projects in the field of molecular cancer biology. Supportive services such as gynecologic and endocrinological care, physical therapy, psychosocial support and excercise programs are provided.
CERTIFICATION(S) ACCREDITATION(S)
Expiration date:  20 October 2022

Österreichische Zertifizierungs Kommission

This Centre has notified to be certified and, as such, been requested to upload the certification document for further information. When the certification document/s is/are provided, it is/they are made available hereafter.

 
Last modified: 11 March 2020