Hospital Moinhos de Vento
PORTO ALEGRE, Brazil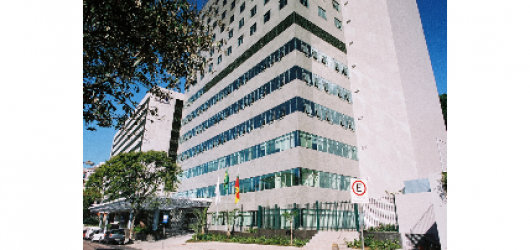 255

New breast cancer cases treated per year

30

Breast multidisciplinarity team members
Radiologists, surgeons, pathologists, medical oncologists, radiotherapists and nurses
Clinical Director: Maira Caleffi, MD, PhD
The Nucleo Mama of Hospital Moinhos de Vento comprises a multi-professional team dedicated to breast health care, from monitoring routine exams for early detection of malignant tumours, diagnosis, and complete treatment at different stages of the disease and post-treatment monitoring. It offers the patient all the necessary care in the same place, which allows a more agile and accurate diagnosis, always prioritizing the patient and her/his family. The Center identifies patients and family members at high risk for breast cancer, treating them according to NCCN protocols. Also, Nucleo Mama carries the screening for asymptomatic women, symptomatic male patients and children. The Nucleo Mama Moinhos Center integrates all the medical and supportive areas necessary for diagnosing, treating, and monitoring patients with a positive history of cancer. The team includes breast dedicated surgeons, oncologists, geneticists, plastic surgeons, general surgeons, psychologists, psychiatrists, nurses, physiotherapists and nutritionists. All other dedicated breast specialists, imaging, pathologist, molecular biologist, nuclear medicine, etc., work at some hospitals.
CERTIFICATION(S) ACCREDITATION(S)
Expiration date:  Na  N.Na

Joint Commission Internacional

This Centre has notified to be certified and, as such, been requested to upload the certification document for further information. When the certification document/s is/are provided, it is/they are made available hereafter.

 
Last modified: 24 May 2022