Instituto Conquistense de Mastologia - IMASTO
Vitória da Conquista, Brazil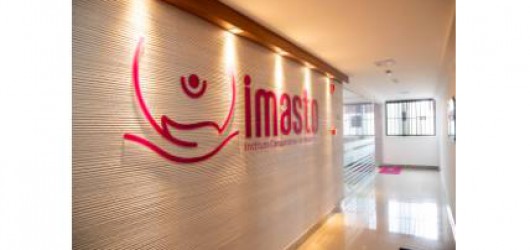 162

New breast cancer cases treated per year

9

Breast multidisciplinarity team members
Radiologists, surgeons, pathologists, medical oncologists, radiotherapists and nurses
Clinical Director: Tainã Ladeia, MD
O IMASTO É O MAIOR CENTRO DE MASTOLOGIA DO INTERIOR DA BAHIA, ESTANDO ENTRE OS MAIORES DAS REGIÕES NORTE E NORDESTE DO PAIS. SOMOS PIONEIROS EM TERMOS DE AVANÇOS TECNOLÓGICOS, RECURSOS DE IMAGENS E EXCELÊNCIA PROFISSIONAL, ESTANDO NA VANGUARDA DA MASTOLOGIA BRASILEIRA. SOMOS UM INSTITUTO ALTAMENTE RESOLUTIVO, ONDE A PACIENTE RESOLVE TUDO EM UM SÓ LUGAR. NO IMASTO AS PACIENTES ENCONTRARÃO UM AMBIENTE CONFORTÁVEL, MODERNO E ACOLHEDOR RECEBENDO UM ATENDIMENTO DIFERENCIADO, HUMANO E AFETUOSO. NOSSA EQUIPE POSSUI LONGA EXPERIÊNCIA NAS RESPECTIVAS ÁREAS DE ATUAÇÃO E COM FORMAÇÃO NOS MAIS CONCEITUADOS HOSPITAIS DO PAÍS. NOSSOS DIFERENCIAIS: - CENTRO AVANÇADO DE BIÓPSIAS MAMÁRIAS - REALIZAMOS PROCEDIMENTOS MAMÁRIOS E AXILARES ORIENTADOS POR ULTRASSOM OU ESTEREOTAXIA DIGITAL EM MESA DEDICADA (MULTICARE PLATINUM HOLOGIC). - ASSOCIAMOS, EM NOSSAS AVALIAÇÕES, RECURSOS DA MEDICINA NUCLEAR, MASTOLOGIA, RADIOLOGIA, ONCOLOGIA, CIRURGIA PLÁSTICA E MEDICINA DO EXERCÍCIO-ESPORTE ALCANÇANDO RESULTADOS MAIS SEGUROS E PRECISOS E COM MENOS COMPLICAÇÕES. - TODAS AS NOSSAS PACIENTES COM CÂNCER DE MAMA RECEBEM ACOMPANHAMENTO MULTIPROFISSIONAL. PENSOU EM MAMA, PENSOU IMASTO!!!!!
CERTIFICATION(S) ACCREDITATION(S)
Expiration date:  29 November 2022

COLÉGIO BRASILERIO DE RADIOLOGIA E DIAGNÓSTICO POR IMAGEM

 

Expiration date:  26 December 2022

INSTITUTO NACIONAL DE CÂNCER JOSÉ ALENCAR GOMES DA SILVA - INCA

This Centre has notified to be certified and, as such, been requested to upload the certification document for further information. When the certification document/s is/are provided, it is/they are made available hereafter.

 
Instituto Conquistense de Mastologia - IMASTO
Avenida Jorge Teixeira, Número 29, Sala 201-202-205
45028-536 Vitória da Conquista, 
Phone: +557730243749
Fax:
E-mail: contato@imasto.com.br
Web-site: www.imasto.com.br
Last modified: 09 August 2021